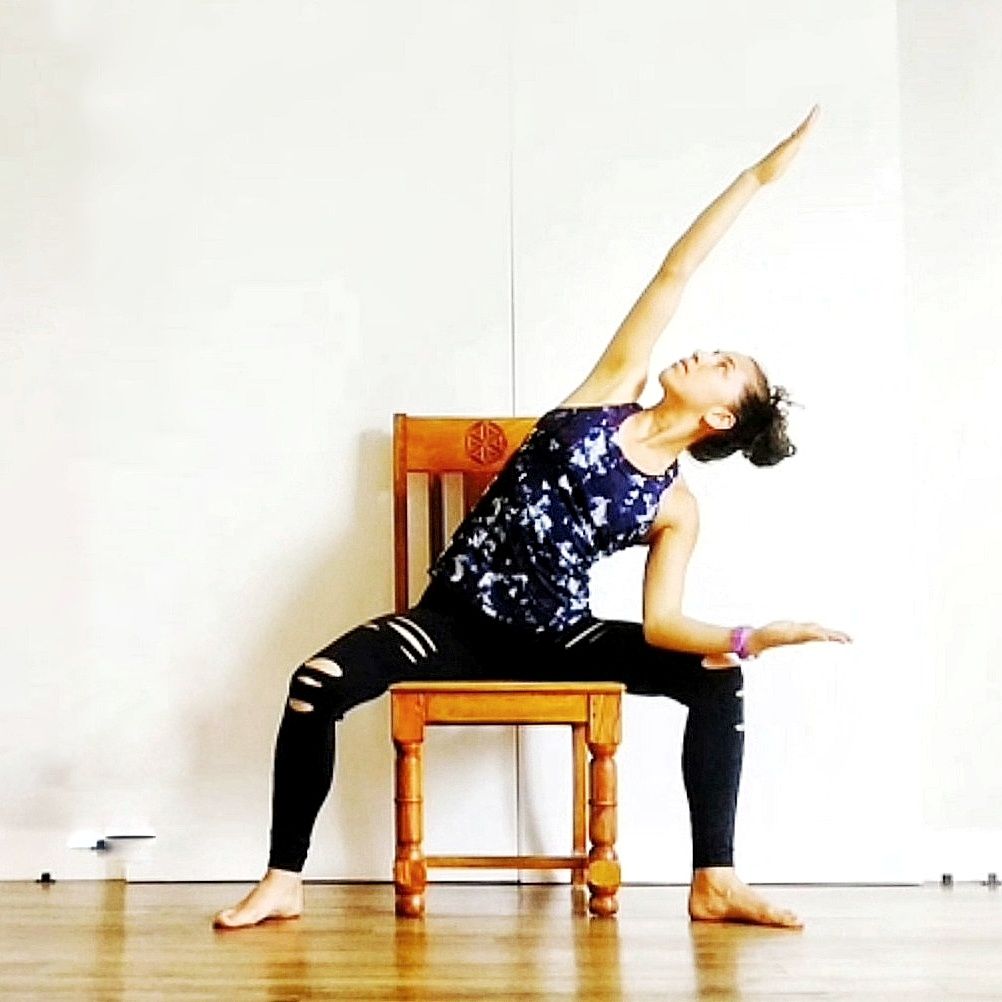 I was first introduced to Accessible Yoga in 2018. I was doing Trauma-Informed Yoga Training and one of the guest teachers worked for an organization called Accessible Yoga. A couple of months after completing my Trauma-Informed training I decided to attend an Accessible Yoga Training seminar taught by the founder, Jivana Heyman, in Denver, Colorado.
At that time, I was teaching yoga at yoga studios, gyms, and a community center. At a city-run community center, I was teaching yoga to city employees; chair yoga for stroke survivors; yoga for seniors; and yoga for special needs children and teenagers. It was when I was teaching yoga outside of a yoga studio that I first discovered a specific weakness I had as a yoga teacher. I did not know how to teach yoga to people who were not regular yoga practitioners. What do I mean by that? In my 200-hour yoga teacher training, we learned how to teach to each other and thus the vast majority of the practitioners were white, female, slim, abled-bodied, young, and fit. This demographic is similar to the average student-base at a typical yoga studio.
When I started to teach at non-yoga studios I soon realized that hardly anyone could even do a down-dog asana with ease. The same applied to such basics as sitting on the floor comfortably; getting up and down; stepping forward from a down dog; and the list goes on. I soon realized that I had never learned how to teach yoga to people who did not fit the "yoga practitioner" stereotype.
Taking Accessible Yoga Training with Jivana Heyman opened my eyes and gave me the skills and knowledge I needed to start my journey to become an Accessible Yoga Teacher. I now teach Accessible Yoga training for 200 & 300-hour teacher training programs at several studios in Long Beach. It is an important part of my life as a yoga teacher and I feel passionate about sharing these skillsets with other yoga teachers, because yoga practice is for everyone, no matter their size, experience level, first language, financial situation, cultural background, race, or physical abilities.
Here are six simple items to consider as a yoga teacher or yoga practitioner to judge if a specific class or studio is accessible:
Is it welcoming? Do you notice cliques, hierarchies, and/or power dynamics in the space?

Who is in the room? Who is not in the room? Who is being represented on the website, the social media account, and in promotional material?

Are yoga props offered and used in the class without judgement?

Are there price options for the yoga classes? Sliding-scale? Is there a trade option? Scholarships? Financial aid?

Are different variations of the various poses being offered in class without one option being depicted as better or more desirable?
Does the teacher or studio ask for feedback? Do they welcome constructive criticism? Do they listen to the community?

Of course there are many more points than what I listed above to try to make a yoga space more accessible, but these six points are a great place to start if you have never thought about this topic. I always strive to be accessible in the classes I teach; the Virtual Yoga Studio space that I created; and how I educate new yoga teachers in my training and mentorship. If you have any questions or comments don't hesitate to reach out to me :)